Product Information
Imagination is more important than knowledge
- Einstein
Bridging art and 21st-century technology, Creativity Express provides educators and parents with a comprehensive curriculum.
Sixteen animated lessons
provide students with the tools they need to understand, interpret and create meaningful art. Out art guides - Tickles, Furnace, and Ruby - keep students emotionally connected to the lesson content and motivated to learn. Creativity Express is most appropriate for grades 2-8, though many adults report that they are engaged by the curriculum as well.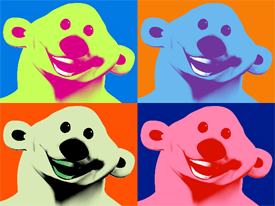 Creativity is a key part of the educated mind
Through cleverly designed challenges and activities, the program subtly tests learning, knowledge and progression. Interactive challenges reinforce the concepts presented and allow application of those concepts, all the while offering rewards as well as other incentives and motivators. Creativity Builders provide the basis for hands-on activities. As Creativity Express is web-based, tracking student progress is simple, organized, and efficient through our comprehensive
Teacher Account Center⿻
The subscription flexibility and online content access resolve the installation and compatibility problems of traditional software. Internet delivery allows teachers, parents, and students access our content virtually anywhere. We offer multiple products tailored to meet the varying needs of educators and parents including Whiteboard licensing and full year or semester pricing. See our
store
for details of our product line, and browse the questions below for solutions to specific situations. Upon purchase a Welcome Letter arrives via email with detailed instructions on how to fully enjoy and utilize Creativity Express either at home or in the classroom.
Flexibly designed to meet your educational needs
Madcap Logic is an educational content provider with copyright and licensing restrictions. These licensing and legal specifications are found in our
Terms and Conditions
to which you are bound upon login to Creativity Express. We are flexible in meeting the needs of our customers so please
contact us
if you or your organization has a specific request. Special discounts are given for nonprofit organizations and larger virtual or traditional school system orders.