About Madcap Logic
OUR FOUNDERS' VISION TO RE-DEFINE ART EDUCATION
Founded in 2003 as
Geeguides, LLC
, animators from The Walt Disney Company began a mission to instill children with a lifelong love of learning by developing fun, innovative educational products. Their talented artists and expert production team created the
award winning
geeART16
curriculum, utilizing a unique blend of animation, storytelling and interactive activities with the focus on empowering kids' inner creativity, imagination and critical thinking skills. In 2007 Geeguides changed company name to
Madcap Logic, LLC
, and geeART16 evolved to
Creativity Express
.
Madcap Logic brings a renaissance to art education, drawing from some of the most revered, forward-thinking educational models, and making ground-breaking, innovative use of today's technology. What truly distinguishes the
Creativity Express Curriculum
from other educational products is many years of
research
. Madcap Logic assessed and refined its lesson content through trials in schools and museums. Feedback from education professionals helped Madcap Logic design the compelling Creativity Express curriculum to the highest standards.
THE NECESSITY OF ARTS EDUCATION FOR CHILDREN
Today's educational environment is focused on measurable results achieved through standardized test scores. It is becoming common for art education to be cut from schools' core curricula. Such a valuable gateway to the development of higher-order, critical thinking skills should not be closed.
The next generation of creative thinkers will need to be adept not only at processing facts and figures, but also at using their creative imaginations to solve problems, connect diverse information, and visualize new ideas.
For these reasons, and for the love of art, Madcap Logic is committed to reversing this trend. We believe that all children should have access to the essential skills developed through exposure to art education.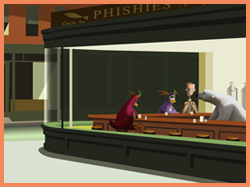 ANIMATION DESIGNED TO HELP YOUR CHILDREN SUCCEED
Our corporate culture is synonymous with our name - zany and playful but with a distinct purpose. We hope you look to Madcap Logic as the premier creator of products that prepare kids to excel in the 21st century world where creativity, visual literacy, and problem solving skills are increasingly required for success.