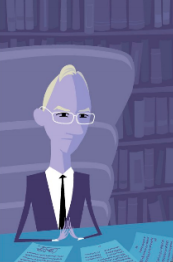 From the desk of our Lawyer:
Terms of License Agreement, Copyright Restrictions, & Privacy Policy
Please review the Madcap Logic ® and https://www.madcaplogic.com/ (the "Website") Terms of Use. All use of images and text is governed by these terms. Accessing this website indicates that you have reviewed the website's Terms of Use and have agreed to be bound by these terms.
Madcap Logic may amend these terms and conditions at any time. Your continued use of this site content and Madcap Logic's education curriculum materials constitutes acceptance of the licensing terms and conditions stated herein. You should visit this page prior to using the education curriculum materials to determine the specific licensing terms and conditions to which you are bound at the time of purchase and use.
1. GRANT OF LICENSE
This is a license agreement ("Agreement") between Madcap Logic, LLC ("Madcap Logic"), and you ("Licensee") for use of the Creativity Express program (the "Program"), supplemental materials, and user documentation. Madcap Logic is willing to grant you the Licensee use of the Creativity Express program only on the condition that you accept all terms in this agreement.
By logging into the Creativity Express Program you acknowledge that you have read this agreement, understand it, and agree to be bound by it. If you do not agree to any of the terms below, Madcap Logic is unwilling to license the program to you, and you should not log in to the Program. In such case, any amounts already paid by you shall be refunded by Madcap Logic or from the Retailer from which you purchased the program subject to the applicable refund policy.
2. PERMITTED USES
Madcap Logic grants Licensee the number and type of license(s) specified on Licensee's purchase order to use Madcap Logic's Creativity Express program (the "Program") through Madcap Logic's website at http://www.madcaplogic.com/ (the "Website") in the manner described in this agreement and the user documentation. Madcap Logic reserves all rights not expressly granted to Licensee in this Agreement.
Licensee may provide access to the Program to the number of users and/or type of usage specified on Madcap Logic's order form or Licensee's purchase order, as the case may be (each and "Authorized User"). Licensee may not transfer or assign Licensee's rights under this agreement. Any attempted assignment of Licensee's rights in the Program shall be null and void.
Madcap Logic reserves the right to disable access to the Creativity Express curriculum without notification should a licensee violate the specific usage terms of the purchased licensing agreement.
3. COPYRIGHT
The Program and software contained herein is protected by United States copyright laws and International Copyright treaties, as well as other intellectual property laws and treaties. Unauthorized reproduction or distribution is subject to civil and criminal penalties. All title and copyrights in and to the Program, including but not limited to any animations, video, music, text, and any non-public domain images and photographs, and any printed materials accompanying the Program and Website are owned by Madcap Logic, LLC. All copying of the materials, images or text in the curriculum materials is strictly prohibited unless specifically noted.
3.1. CORPORATE IDENTIFICATION AND TRADEMARKS
All registered and/or unregistered trademarks and/or service marks used or referred to in this site are the property of Madcap Logic, LLC, unless otherwise noted. You may not use, copy, reproduce, publish, upload, post, transmit, distribute, or modify these marks without Madcap Logic's prior permission.
3.2. RESTRICTIONS
Licensee shall not: delete or obscure any copyright, trademark, or any other proprietary notice on the Program or Website, or accompanying printed materials, decompile, modify, reverse engineer, disassemble, or otherwise reproduce the Program, copy, rent, lease, sublicense, distribute or publicly display the Program, create derivative works based on the Program, allow access to the Program by anyone other than an Authorized User or otherwise commercially exploit the Program
3.3. USE OF IMAGES PROHIBITION
Madcap Logic's curriculum materials contain images of art. The reproduction rights for such artwork has been obtained from museums by Madcap Logic for educational use only. Users of the curriculum material are STRICTLY PROHIBITED FROM REPRODUCING SUCH IMAGES, except in strict accordance with the guidelines set forth in the curriculum. Reproduction, including downloading of ARS member's works, is prohibited by copyright laws and international conventions without the express written permission of Artists Rights Society (ARS), New York.
4. DIGITAL RIGHTS MANAGEMENT
The Program may include digital rights management technologies provided by the distributor of the Program. Licensee acknowledges that this digital rights management technology may be used to collect personal information from Licensee in order to activate a feature of the Program that prevents unauthorized use. Licensee further acknowledges that Madcap Logic has no control over or liability for any third party digital rights management technology.
Where Madcap Logic's digital rights are used, Madcap Logic's collection, use, disclosure, and protection of personal information is described in the Privacy Policy which is incorporated into this Agreement. Licensee expressly consents to processing of Licensee's personal information in accordance with the Privacy Policy. Licensee expressly consents to Madcap Logic's use of cookies, clear GIF's, and digital rights management when Licensee uses Madcap Logic's services, Website, or accesses the Program, as described in the Privacy Policy. The digital rights management may also disallow or disable access to the program where Madcap logic has reason to believe it is being used in violation of these terms, the Licensee's purchased Program licensing term, or when the term of this agreement has ended.
5. PRIVACY POLICY
This website is produced by Madcap Logic, LLC. Our postal address is 4803 W Woodmere Rd., Tampa, Florida 33609-3632. We can be reached by e-mail at info@madcaplogic.com. Your use of our site and the educational materials indicates to us that you have read and accepted our Terms of Use, Copyright, & Privacy Policy.
We have developed this Privacy Policy to advise you about our possible uses of information collected by us. This Privacy Policy is subject to change. When we make any material change to this Privacy Policy, we will inform you by posting a notice on the home page of this site and by changing the date on this page noting when the Privacy Policy was last updated.
5.1. ANONYMOUS INFORMATION
Each time you use Madcap Logic's Website, Madcap Logic collects some information to monitor and improve the overall quality of the site and your experience, which information generally cannot trace back to you specifically ("Anonymous Information"). Such Anonymous Information may include your IP address (e.g., whether you logged on from a .com, .gov or .edu domain), referral data (e.g., the address of the last URL you visited prior to clicking through to Madcap Logic's Website), and your browser and platform type (e.g., a Microsoft browser or a Macintosh platform).
5.2. PERSONAL INFORMATION
Through the site, Madcap Logic may request personal information that specifically identifies you ("Personal Information"), such as name, email address, street address, phone number, grade level of the student. In addition, the curriculum material generates assessments of the user's comprehension of the educational curriculum. If you choose not to provide the requested information, the Madcap Logic's site may not be able to offer the programs and assessments that depend on this type of information to function.
You have the option to change or remove your Personal Information from our registration database at any time by submitting an email to info@madcaplogic.com.
5.3. HOW MADCAP LOGIC USES YOUR INFORMATION
Madcap Logic may use Personal Information for editorial and feedback purposes, for marketing and promotional purposes, for a statistical analysis of visitor behavior, for product development, for content improvement, and to customize content and layout of Madcap Logic's site. Personal Information may be added to Madcap Logic's databases and used for future calls and mailings regarding site updates, new products and services, upcoming events, and status of online orders.
Madcap Logic will notify you before posting collected Personal Information on its Web site.
5.4. COLLECTION OF INFORMATION BY THIRD-PARTY SITES
Our site may contain links to sites whose information practices may be different than ours. Visitors should consult the sites' privacy notices, as we have no control over information that is submitted to, or collected by, these third parties. This site sometimes may offer content that is sponsored by identified third parties. By virtue of these relationships, the third parties may obtain personally identifiable information that visitors voluntarily submit to participate in the site activity. Madcap Logic has no control over these third parties' use of this information.
5.5. USE OF COOKIES
When you view our site we might store some information on your computer. This information will be in the form of a "cookie" or similar file. Cookies are small pieces of information stored on your hard drive, not on our site. Cookies do not spy on you or otherwise invade your privacy, and they cannot invade your hard drive and steal information. Rather, they help you navigate a web site as easily as possible. We use cookies to deliver content specific to your interests and to prevent you from reentering all your registration data at each connection.
5.6. HYPERTEXT LINKS
This site may be linked to other sites that are not maintained by Madcap Logic. Madcap Logic is not responsible for the content of those sites. The inclusion of any link to such sites does not imply endorsement, sponsorship, or recommendation by Madcap Logic of the sites.
5.7. SECURITY
Our site has industry standard measure in place to protect the loss, misuse and alternation of the information under our control. While there is no such thing as "perfect security" on the Internet, we take all reasonable measures to insure the safety of your personal information.
6. TERMINATION
This agreement is effective until terminated. This Agreement will terminate automatically witout notice from Madcap Logic if Licensee fails to comply with any provision of this agreement. All provisions of this agreement as to limitations of liability, remedies and damages, will survive termination.
7. WARRANTY DISCLAIMER
The Creativity Express software and/or Online Program is provided to Licensee "as is" and Madcap Logic, LLC and it's suppliers expressly disclaim all warranties and conditions, express, implied, or statutory, including without limitation the implied warranties and condition or conditions of merchant ability, fitness for a particular purpose, and non-infringement, no oral or written information or advice given by Madcap logic, it's employees, distributors, dealers, or agents shall increase the scope of the above warranties or create any new warranties.
8. LIMITATION OF LIABILITY.
In no event shall Madcap Logic be liable to Licensee or any other third party for any indirect, incidental, special or consequential damages arising out of or relating to this agreement or the use or inability to use the software or any data supplied therewith, including loss of profits, revenue, data, or use, whether in an action in contract or tort, whether or not Madcap Logic has been advised of the possibility of such damages arising out of or relating to this agreement shall in no event exceed the amount of the License Fee paid by Licensee under this Agreement.
The foregoing limitation of liability and exclusion of certain damages shall apply regardless of the success or effectiveness of any of the exclusive remedies provided for under this Agreement. In jurisdictions that do not allow the exclusion or limitation of liability for consequential, special or incidental damages, Madcap Logic's liability under this Agreement shall be limited to the maximum extent permitted by applicable law.
9. GENERAL
This Agreement will be governed by the laws of the State of Florida in the United States of America, without regard to or application of conflicts of law rules or principles. The Federal and District Courts sitting in the State of Florida and the State Courts located in Hillsborough County shall have sole jurisdiction over any disputes arising hereunder and the parties hereby submit to the personal jurisdiction of such courts. If any provision of this Agreement is held to be unenforceable, that provision will be removed and the remaining provisions will remain in full force.
In the event any proceeding or lawsuit is brought by Madcap Logic, LLC or Licensee in connection with this Agreement, the prevailing party in such proceeding or lawsuit shall be entitled to receive its costs, expert witness fees and reasonable attorney's fees, including costs and fees on appeal. The failure of either party to require performance by the other party of any provision hereof shall not affect the full right to require such performance at any time thereafter; nor shall the waiver by either party of a breach of any provision hereof be taken or held to be a waiver of the provision itself. This Agreement is the complete and exclusive statement of the agreement between Madcap Logic and Licensee which supersedes any proposal or prior agreement, oral or written, and any other communications between the parties in relation to the subject matter of this Agreement. This Agreement shall not be modified except by a subsequently dated written amendment or exhibit signed by both parties by their duly authorized representatives.
9.1 CONTACTING MADCAP LOGIC
You may contact Madcap Logic directly via e-mail at info@madcaplogic.com with any questions or comments you may have. This link can also be found by entering the Contact Us section of this site. Madcap Logic may use any information you provide to prioritize its development needs, improve this site, and assist you.
©Copyright 2007-2022, MADCAP LOGIC, LLC. All Rights Reserved. Madcap Logic, Creativity Express, sayART, seeART, and doART are registered trademarks of Madcap Logic, LLC in the United States. Madcap Logic and Creativity Express are Trademarks of Madcap Logic, LLC in Canada and Australia; Madcap Logic, Creativity Express, Tickles and Furnace are registered trademarks of Madcap Logic, LLC in the European Union.